Installation, Repair & Maintenance
ChillTech service along with its team of F-GAS registered engineers can offer you a full service for commercial refrigeration (cold room) of any size. Our well trained, experienced refrigeration engineers are available within the Dublin area 24 hours a day, 7 days a week.
Run a restaurant, a market or any kind of food serving business, then a properly working cold room is your best friend. Start with ensuring that your cold store is in good condition. This means no faulty parts and and that it is an hygienic environment.
Call and book one of our Top refrigeration specialists, including cold room repair experts, for a visit.
Refrigeration Services
Design (Selection of the unit to the cold/walk in room)
Installations
Service & Repairs
Maintenance
Each of our engineers possesses a minimum of 10 years experience in the field of refrigeration, cooling and air conditioning, so you can be sure you will be getting a high quality service.
We offer reliable repair and maintenance of all commercial and industrial refrigeration equipment. Each customer is important to us and we respond to every call as quickly as possible so you don't have to be inconvenienced by a broken appliance for long.
We also offer a yearly maintenance & service contract for customers who want to keep their machines working at the highest efficiency all year round. There are no hidden costs, we guarantee you will never pay more than the price we quote you.
Refrigeration types
Cold Rooms - Cold Storage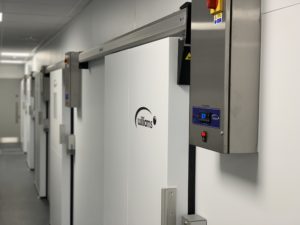 Walk in Fridge/Chiller
Walk in Freezers
Commercial Freezer
Commercial Fridge
Medical refrigeration (Lec Refrigeration)
Multideck displays
Bottle coolers
Wine coolers
Dairy wall fridges
Grab N Go Low Height Multideck Fridge
Beer Cooling Systems
Beer Cold Storage Rooms
Blast Chillers
Blast Freezers
Cabinet Chillers
We provide refrigeration to the following industry:
Hotels
Restaurants
Markets
Bars, Pubs & Takeaway
Nursing homes
We offer refrigeration equipment and a full range of refrigeration services. We provide chillers for refrigeration equipment, ensuring efficient assembly and fast service.
Cold storage for vegetables and fruits
Cold rooms for dairy, meat, etc
Freezer rooms
Cabinets Chillers For Dairy, Vegetables, Meat or Drinks
We design aggregates according to demand
Refrigeration Brands
We carry out comprehensive refrigeration installations in shops and markets. We use reputable companies such as:
Bitzer
Copeland
Tecumseh
Embraco
Centaurio
LU-VE
We use automation companies:
Carel
Ranco
Alco
Castel
Danfoss
Eliwell
1. Design
Design Process
Cold store - storage space for goods requiring extended life at low temperatures - lower than normal ambient air temperature. This can be in the form of a stationary chamber, a container or a cold store specially designed in a specially adapted building.
One of the most important elements in the cooling system is the effectiveness of thermal insulation of walls and ceilings in addition to the performance of cooling units.
Depending on the purpose of the refrigerator, the temperature inside it may range from 0 ° to 4 ° C, for storing frozen vegetables, fruits and foodstuffs, or below zero - for example -25 ° C for long-term storage of frozen food.
To accurately select refrigeration units for the existing freezer or cold store, the following data should be considered:
Room size
Isolation efficiency
Ground type - floors
Mounted freezer doors, refrigerated
Type of stored material (fruit, vegetables, dairy, meat, plants, samples, etc.)
Desired temperature of the stored material
Volume of daily loading
Loading frequency
In case of no refrigeration or freezing, we perform complex construction, equipment, maintenance, inspections.
2. Installations
Whether you want to install a cabinet fridge or cold room/cold storage for the first time or replace an old one with a brand new one, we can help you with that. Using the most advanced tools and technology, as quality engineers, we can install the refrigeration unit in your pub, hospital, takeaway, restaurant market.
How it works
Preparation of the room
Planning the placement of items like: pipeworks electrical units etc, drainage
Assembly of panel units
Room trunking - connection of a condenser unit with evaporator unit
Electrical installation connection
Regas - Commissioning
3. Service & Repairs
Services:
Gas systems
Compressores
Motor fans
Drain pumps
Gas leak detections
Upgrade for new model
Refrigerant recycle
Pipes upgrading
Electrical issues
Repairs:
Reactive repairs
Major repairs
New cold room installation and commissioning
Equipment testing
Gas leak detection
Filter, drains and condensate pump cleaning
Refrigerant fill up
Overall advice at keeping equipment in good condition
Common problems:
Compressors are not working, very loud
Ventilators not working
Water leaking (drainage repairs)
Making a clicking sound
Too cold, too hot, not cooling, not cold, not working, not heating
Ice build-up
Won't defrost
Making noises
Burning smell
Poor air flow
Electrical issues
Valves, sensors, controllers also might be causing problems
4. Maintenance
Our experienced technicians perform cleaning, adjusting and testing procedures along with exchanging faulty components for new ones if necessary. Service and maintenance should be undertaken regularly depending on the type of your refrigeration system as well as the level of its use.
Regular maintenance is vital for a proper functioning refrigeration system. If carried out regularly, it can prevent your unit from breaking down.
Maintenance Includes:
Full cold room diagnostic and fault finding
Safety checks
Upgrade of existing units
Technical Support Cover includes:
Comprehensive service visits
Priority service calls
Emergency 24-hour a day breakdown service
Extended warranty
Efficiency checks
Planned preventative maintenance programmes
If you require  refrigeration design (Selection of the unit to the room), installations, service, repairs or maintenance, contact by e-mail, phone or fill in our online form.